Here is the list of the boutique bicycle manufacturers, ordered by their name (starting with C). If you want to find a unique bike that fits your personality, review this list.
The list is probably not complete, so if you want to contribute, please leave a comment below.
Other boutique bicycle manufacturers: A | B | C | D | E-F | G-H | I-J-K | L | M | N-O-P-Q | R | S | T | V-W | Y-Z
Caletti Cycles
The company is located in Santa Cruz, California, United States. It is founded by John Caletti in 2004. They build many types of bicycles (road, mountain, cyclo-x, touring, etc).
"I take building bikes seriously, and I take the way I run my business and the impact it has on the environment seriously as well. Part of that is building a bike you will love and want to keep, and part of that is making it durable by using top-quality materials and careful workmanship. Both my chosen frame materials (titanium and steel) are recyclable if needed." –John Caletti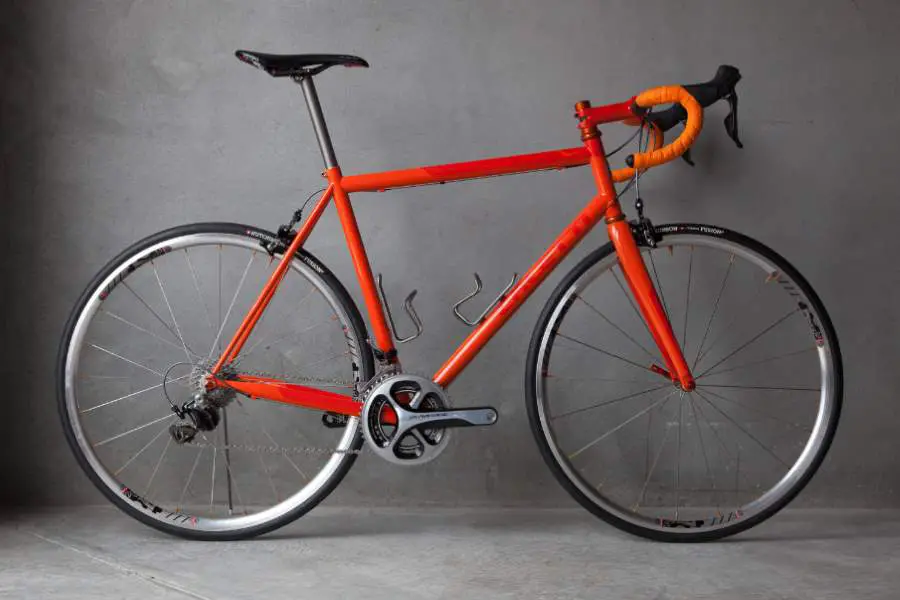 Website: caletticycles.com
Calfee Design
The company is located in La Selva Beach, Santa Cruz County, California, United States. Calfee Design is founded in 1987 by Craig Calfee, and their bikes were used at the Tour de France in 1991, by the legendary American cyclist Greg LeMond, triple Tour de France winner, and his team Z-Tomasso. It was the first all-carbon fiber frameset to be raced in the Tour de France.
"In 1991, Greg LeMond was searching for a bike fast enough to keep him at the very pinnacle of professional bike racing. Craig Calfee was busy forging a quiet revolution in carbon construction. Together, they changed the face of cycling."
Specifications of the bicycle above:
Suspended Manta will no longer require struts under the BB
Rim or dual disc brake (mechanical or hydraulic)
Compatible with mechanical and/or electronic drivetrains, compatible with internal battery and wiring systems
Multiple bb sizes available including the 65mm shell for the Look Zed2 crankset
Pro tire clearance; 25c mounted on a wide road rim
Adventure and CX tire clearance; 650b x 42mm and 700c x 35mm tire
Internal rear brake cable routing
44mm head tube allows use of a tapered or straight steerer
Available with eyelets to support frame/fork mounted racks, fenders, etc.
56cm Manta frame w/suspension weighs 2.75 pounds (1.25 kg)
25 year warranty
Crash protection; the registered owner is protected by a $350 carbon repair credit for a term of 5 years
"Experience, opportunity, innovation, and technology collided to catalyze our new frame model, the Manta. Five years in the making, the Manta is a "race platform" that leverages a patented, active suspension system at the rear wheel to enhance traction, power transmission, and comfort to increase rider performance."
"Coupling manufacturing processes and technology we own with innovations by external business partners, the Manta is an extremely flexible module. Like all Calfee frames and components, the Manta is hand-crafted and painted in our workshop in Santa Cruz County."
Website: calfeedesign.com
Casati
Casati is an Italian brand, founded by Pietro Casati, around 1925. You can read more about the brand by seeing another post titled "Casati Campagnolo 80th Anniversary Limited Edition". They build road bikes under three categories: "historic steel" (steel bikes with a classic look), "minimalistic steel" (steel bikes with a modern look), and "best-fit carbon".
Website: ciclicasati.it
C.B.T. Italia
C.B.T. Italia (Construction Bicycles Tardivo) was founded in the mid-1950s by Giovanni Tardivo, a regional wholesaler and distributor for bicycle and motorcycle parts.
Towards the beginning of the 1970s, Giovanni's first son, Guido, joined C.B.T. Italia and expanded the company's marketplace to include the production of road/racing bicycles and frames.
By the beginning of the 1980s, Giovanni's second son, Bruno, joined the company. By this time, C.B.T. Italia had shifted the core of its business primarily on the production and distribution of road bicycle frames.
During those years steel was the only material used for bicycle frames, but C.B.T. Italia was already able to distinguish its products by introducing black chrome fork ends and crushed seat tubes to obtain a shorter chainstay.
At the end of the Eighties, with the passing of founder Giovanni Tardivo, the company's core business shifted once again from bicycle production to industrial manufacturing. Investments in innovative machinery allowed C.B.T. Italia to specialize in processing stainless steel and aluminum. The company applied this new technology, originally developed for the aerospace industry, to road/racing bicycles.
The result was nothing short of a success.
Aluminum slowly began to replace steel in the production and manufacturing of bicycles. Frames now had the ability to be lighter and customized to the client's specifications.
In the wake of a new millennium, C.B.T. Italia remains committed to the continuing evolution of bicycle frame production.
With the introduction of carbon fibers, the company now has the ability to manufacture frames that combine the lightness of aluminum with style and comfort unlike any other.
In 2002, C.B.T. Italia tested its carbon prototype frame, with the woman's Tour de France: the final result was the Maillot Jaune. The frame was the Karbon Fiber, the ancestor of the actual monocoque carbon frames, constructed entirely at the facility in Cuneo, Italy.
Today, the company remains dedicated to the production of road bicycles and frames, incorporating welding steel, aluminum, and titanium. All the products are constructed and assembled entirely in Cuneo, Italy. Their frames are built entirely from carbon fiber 3K, VHM, or HM.
Website: cbtitalia.com
Cherubim
Cherubim is based in Japan. The company is founded in 1965, a year after the Olympic Games in Tokyo. They build steel road bikes (concept, modern and classic), track bikes, and keirin bikes.
Website: cherubim.jp
Chesini
The brand is founded by Gelmino Chesini in 1925 and is located in Verona, Italy.
"Our real and unique intent is to build special race bikes, perfect for racers and amateurs. Today every CHESINI bike is special because unique, handbuilt one by one with dedication, skill, attention to details, and unchanged passion."
In 2009, I paid a visit to their shop in Verona, you can read the story in the post titled "Verona and Chesini".
Website: chesini.it
Chumba USA
Previously known as Majaco Bicycles, Chumba USA is located in Austin, Texas. Their mission is to provide you with the highest quality user experience beginning with precision made in USA fabrication and materials, through friendly planning of your dream bike, to turning over the pedals for years to come. All of the company's bikes are made in the USA.
Website: chumbausa.com
Ciclitorino
The company is located in Turin (Torino), Italy. They are inspired by the history of bicycles and their strong link with the city.
Ciclitorino has a wide developed range, from elegant urban bikes to high-end road bikes, all handmade.
The basic concept was to create steel bikes, a material in which they strongly believe due to its unique qualities, realized by the customer's wills, and in a bunch of years, they created a whole range of bikes.
"What we have always wanted has been to craft our bikes in a traditional artisan way, and this is the reason why we design, craft, and assemble our frames entirely here in Turin."
Website: ciclitorino.com
Cinelli
Cinelli is a small high-end bicycle and components factory founded by Cino Cinelli, a former pro rider between the Thirties and Forties, winner of three Giro d'Italia stages (1938, 1939), a Giro di Lombardia (1939) a Milano-Sanremo (1943), and many other races.
In 1948 Cino decides to retire from pro cycling to found his own factory that will become a benchmark in the bicycle world. Some may remember him as a rider, many others remember him as the father of the first aluminum handlebars, the first seat with a plastic core, the first pedal straps, the first quick-release pedals, etc.
Now the company is owned by Antonio Colombo, the son of A.L. Colombo, who was involved in producing steel tubes (the famous Columbus tubes) for bicycles, cars (like Ferrari, Alfa Romeo, etc.), motorbikes (Moto Guzzi, etc.), airplanes (like Caproni, the very first plane to fly over the Atlantic Ocean).
The company is based in Caleppio di Settala, Milan, Italy.
Website: cinelli.it
Ciöcc
The company is located in Bergamo, Italy.
Website: ciocc.it
Circa Cycles
The company is founded by Rich Fox, who is also the head designer and is based in Portland, Oregon, United States. They build road and city bikes.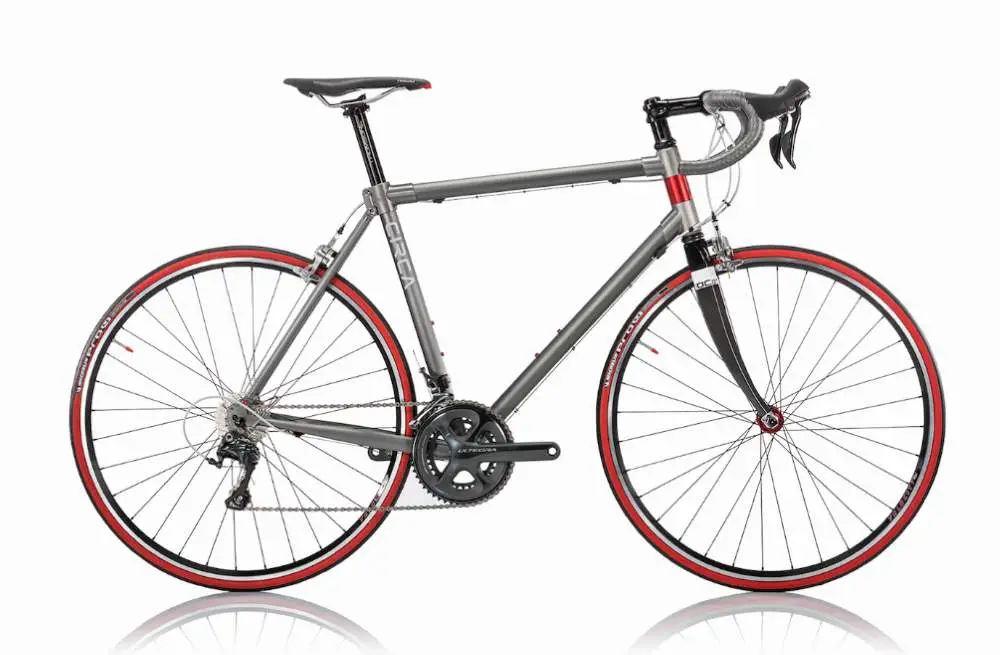 Website: ridecirca.com
Clockwork Bikes
The company is founded by Joel Greenblatt and is located in Golden Valley, Minnesota, United States. They build many types of bicycles – including road, track, MTB, Fat bikes, Cyclo-x, etc.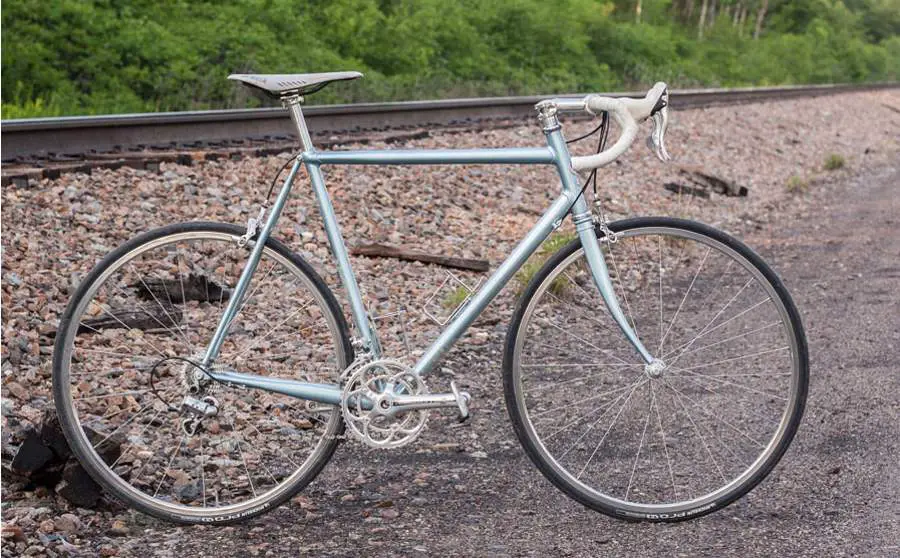 Website: clockworkbikes.com
Co-Motion Cycles
The company is located in Orlando, United States and it was founded in 1988. They build many types of bicycles, including road, touring, city, cyclo-x, and tandem.
"Co-Motion Cycles started simply: We built a few bikes for ourselves and our friends, and discovered that we were able to rise to the occasion when challenged by new ideas or problems. Not once have we stopped questioning the way things have always been done. While finding better ways to make our bicycles stand apart, we've learned more than we ever imagined, from designing new bicycle tubing to the intricacies of our own CNC machining and maintaining an amazing, talented workforce."
ColourBolt
The company is located in Islington, London, United Kingdom. They build handmade steel frames. Every ColourBolt build is made-to-order, starting with a custom bike fit session from Velorution's expert, Roger Graver.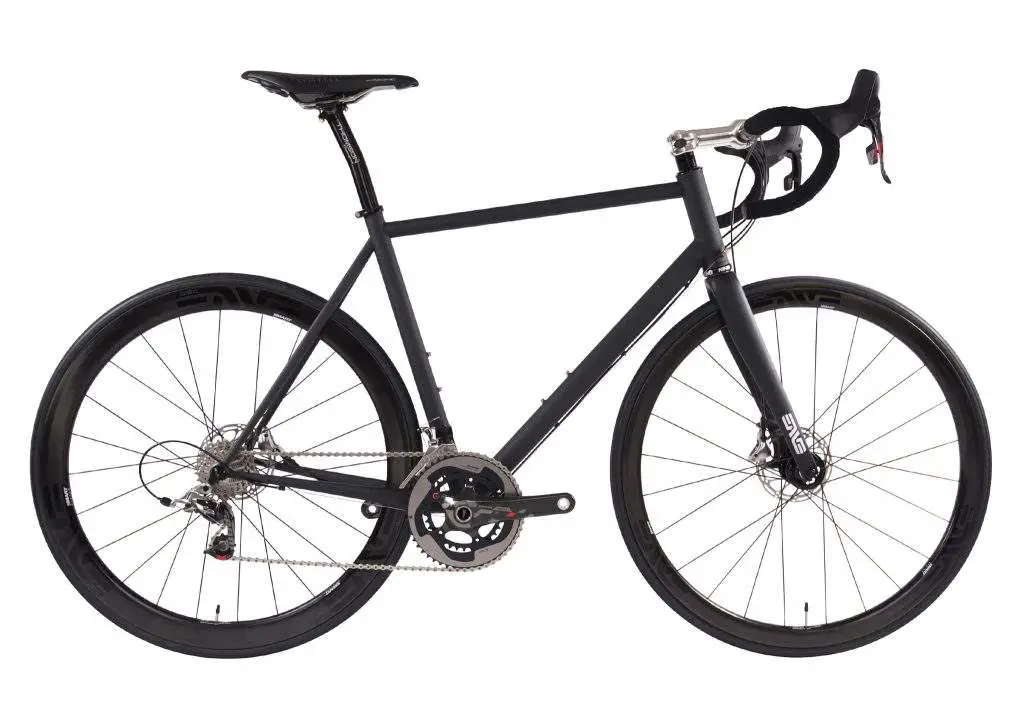 Website: colourbolt.com
Condor Cycles
Condor Cycles was started in 1948 by Monty Young, providing bespoke bicycles which have been ridden by riders such as Tom Simpson and Bradley Wiggins. Condor bicycles have been ridden to World Championship gold medals and ridden in the Tour de France.
"At the heart of a bicycle is the frame. It is the soul of the machine. It is one of the most expensive parts and the part that will give your ride its character, its feel, and its purpose."
At Condor the frameset is extremely important to us; it has and always will be. That is why after sixty-five years we still make all our frames by hand to our specifications in our production facility. If we go back to when Condor started we used the most famous tubeset in the world; Reynolds 531."
"In 1948 the majority of race bikes were bespoke but in today's marketplace, a bespoke bicycle is a rarity. At Condor, it is what we have done every day for sixty years."
Website: condorcycles.com
Connor Wood Bicycles
Founded in 2012 by Chris Connor, the company is located in Denver, Colorado, United States and as its name suggests, produces wood-frame bicycles. The available types of bicycles are a cruiser, touring, MTB and cyclo-x.
The bikes are race-tested: Connor frames have survived the Leadville 100 mountain bike race, the second oldest of the growing number of 100-mile (160 km) marathon mountain bike races held in the United States (the first being the Wilderness 101 in Central PA).
The Leadville Trail 100 MTB was first held in 1994 and has become one of the best marketed, attended and known marathon events in mountain bike racing.
Website: connorcycles.com
CRISP Titanium
CRISP Titanium is founded by Darren Crisp in January 2004. It is located in Castiglion Fiorentino (a small, walled city in eastern Tuscany), Italy. Darren Crisp builds handmade and highly customized titanium bicycles (road and MTB).
"Throughout my career I have been committed to the rigorous development of conceptual ideas through their evolution to a well-executed final product, relying on my experience as an architect and designer, and my hands-on approach to fabrication. Building bicycles is a natural undertaking for me. Having raced competitively in the United States and Italy, my skills building racing bicycles for road and off-road use are informed by my own experiences as well as the constant feedback from fellow cyclists." –Darren Crisp
Website: crisptitanium.com
Crumpton Cycles
Located in Austin, Colorado, United States, the brand was founded in 2004. They build custom carbon fiber frames. The founder, Nick Crumpton still personally designs, builds, and finishes each frame in his Austin studio.
"Crumpton Cycles fit philosophies and ride characteristics are based in combining performance and comfort for its riders. We design our frames based on rider contact points that in the end, result in superior ride quality with well-rounded attributes for all types of road riding. This is key to the overall performance of our bicycles."
Website: crumptoncycles.com
Cryptic Cycles
The company is located in Mission Viejo, California, United States. It is an award-winning company: with their road-bike model CC I, they won the North American Handmade Bicycle Show 2016 "the best new builder" award.
"We design and create unique frames with an unlimited amount of customization. Every aspect of our frames can be controlled to provide each rider with something to fit their needs. Classic craftsmanship and hand-built meet cutting-edge technology and the best materials that money can buy. We have a zero-compromise attitude and believe we offer one of the finest custom carbon bicycles available today."
Website: crypticcycles.com
Cucchietti
Founded in 1975, the company is located in Cuneo, Piedmont, Italy.
"Since 1975, we create high-end bicycles handmade, personalized in every detail to ensure high performances. The experience acquired by Gian Paolo in his long career as a professional cyclist and over 35 years of experience are our strengths. If every one of us is different and unique, why settle for having an industrialized bike? Test a new experience of cycling in an old-fashioned way! You can create your own bike choosing each component, frame materials, and more."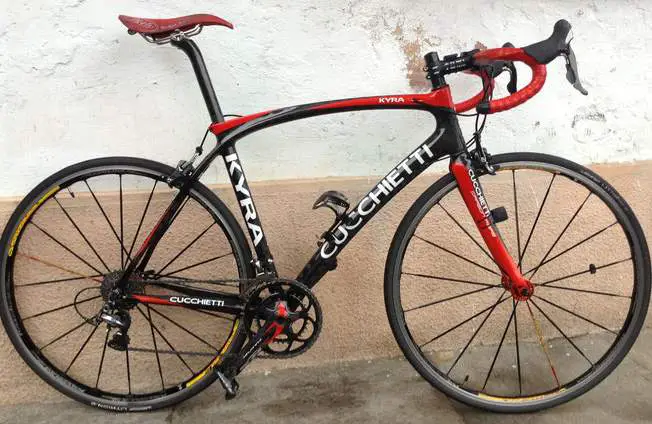 Website: bicicucchietti.com
Curt Goodrich Bicycles
Curt Goodrich is building bikes since 1995. The brand is located in Minneapolis, Minnesota, United States. They build handmade steel bicycles – road bikes, sportif all-rounders, long-distance randonneuse with custom carriers and constructeur-style design and specialty bikes for cyclocross, track and single speed, and city porteurs. In short, you'll find the full range of what is possible in custom-lugged and filet-brazed bicycles.
Website: curtgoodrich.com
Curtis Bikes
The company is founded in 1972 and is located in the Jarmany Hill, Somerset, United Kingdom. All Curtis frames are made by Gary Woodhouse and Brian Curtis. Their bikes are handmade in England – the only thing not done in-house is the powder-coating. They hold no stock of frames at all, every frame is handmade for the customer.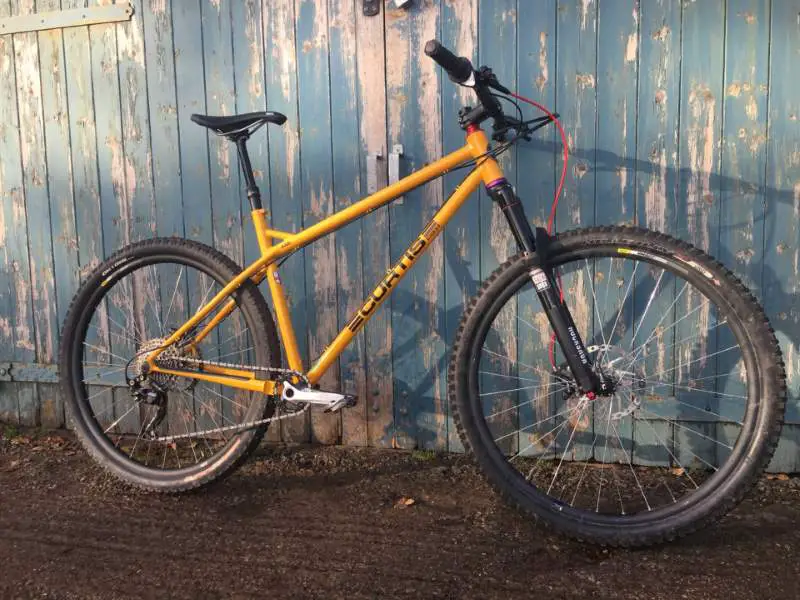 Website: curtisbikes.co.uk
Cyfac
The French company was founded in 1982 by Francis Quillon. Ever since, they've been building frames for Olympic medalists, Tour de France contenders, World Champions, and passionate riders across the world. Cyfac started as a simple workshop atelier building framesets for the greatest French stars of the 1980s.
Laurent Fignon, Thierry Marie, Thierry Clavreyolat, Charly Mottet, Marc Madiot, Richard Virenque, and nearly every French pro from the 1980s to 2000s raced on a Cyfac painted in their team's livery. Through the decades they also built for more of the sport's legendary greats, including Claudio Chiapucci, Marco Pantani, Frank Vandenbroucke, Robert Millar, and more.
Cyfac was the first builder to TIG-weld aluminum frames, making the lightweight aluminum frames for Claudio Chiapucci, Marco Pantani, and others.
As the first European titanium builder, Cyfac offered a growing list of options, including the world's only full-custom aluminum superbike design (since outlawed by the UCI). Cyfac's avant-garde efforts culminated in the first full-custom, full-carbon lug-less frameset, the Tigre. The revolutionary Cyfac carbon-stratification process brought old-world hand-craftsmanship together with 21st-century technologies.
Website: cyfac.fr
Other boutique bicycle manufacturers: A | B | C | D | E-F | G-H | I-J-K | L | M | N-O-P-Q | R | S | T | V-W | Y-Z
* According to Wikipedia, "boutique manufacturing is a method used for the custom production of certain products in limited quantities by hand or with a restricted level of automation.". (Boutique manufacturing on Wikipedia)
Latest posts by M. Özgür Nevres
(see all)