Here is the list of the boutique bicycle manufacturers, ordered by their name (starting with M). If you want to find a unique bike that fits your personality, review this list.
The list is probably not complete, so if you want to contribute, please leave a comment below.
Other boutique bicycle manufacturers: A | B | C | D | E-F | G-H | I-J-K | L | M | N-O-P-Q | R | S | T | V-W | Y-Z
Majaco Bicycles
Majaco (pronounced Mah-Jay-Co) Bicycles was founded in 2011 by Mark Combs. The company is based in Austin, Texas, United States. The motto of the company is "handbuilt for everyone".
Combs started his metalworking career in the Los Angeles area in the late 80s at an aircraft manufacturing company where the margin of error of his output was thirty-thousandths of an inch. He worked there, alongside his father, for over 20 years. Combs longed to follow his passion and attended Master Frame Builder Koichi Yamaguchi's Bicycle Frame Building School and just knew he had found his spot in this world. In 2011 he moved to Austin, TX where he formed Majaco Bicycles.
Majaco Bicycles is now Chumba USA.
Mandaric Bicycles
The company is based in Twin Oaks Valley, San Marcos, California. The first Mandaric frame was built in 1976.
"The constant search for material perfection isn't sufficient without a perfect fit to the rider's body and a perfectly balanced frame for the purpose of riding. These three elements are inseparable and are essential in the perfect frame. Without one or the other, your bike wouldn't be what you really need. At Mandaric Bicycles, we implement those elements into every single frame/bike we make. We strictly believe in a specific geometry for the rider, and although some of us are similar, no one is the same. We want to make you the perfect bike, the unity of material, your fit, and your riding style."
Website: mandaric.com
Marinoni Cycles
Marinoni Cycles was founded by the master frame builder Giuseppe Marinoni. They build handmade bicycles in Quebec, Canada since 1974. Giuseppe Marinoni personally hand-paints all his frames. Marinoni is also a keen cyclist – he broke the hour record for the 74-79 age group on October 20, 2012.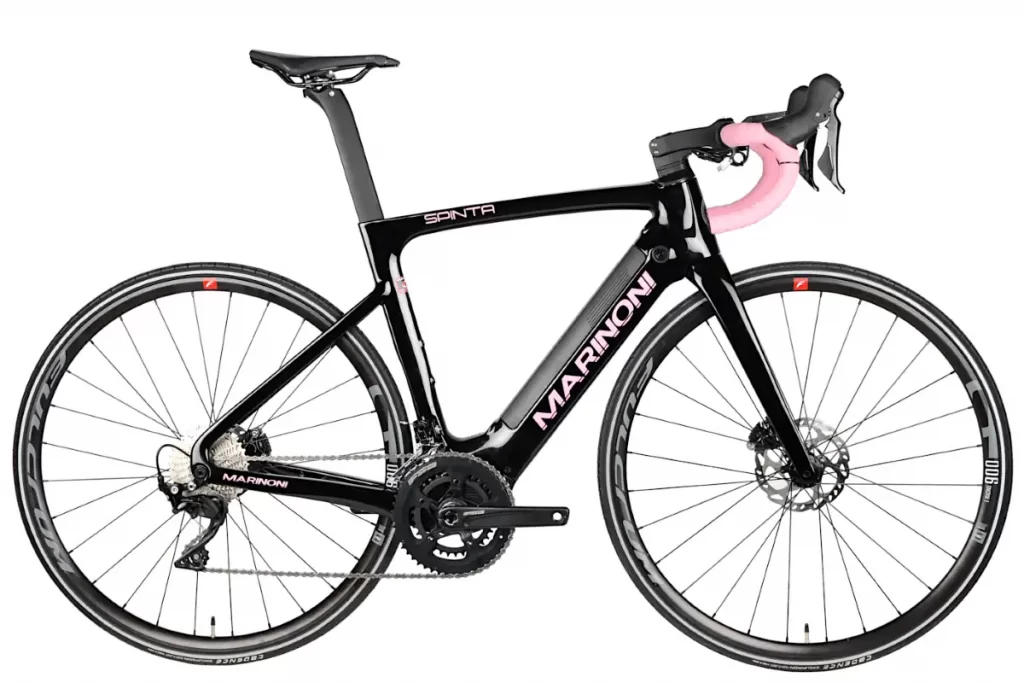 Website: marinoni.qc.ca
Mars Cycles
Mars Cycles was founded by Casey Sussman. The company is 2015 NAHBS (North American Handmade Bicycle Show) peoples choice award winner and builds custom fillet brazed and lugged modern steel frames.
Sussman studied the art of fillet brazing at The Bicycle Academy, in Frome, England. He is the only American to have attended their school. He builds large-tubed steel race bikes using tapered headtubes. Tubes are mitered by hand with a hacksaw and file.
Website: marscycles.com
Maruya
The company is founded by Takashi Iijima in 2015. It is located in Kanagawa, Japan. The predecessor of Maruya Cycle Co., Ltd. was the Maruya Kimono shop, which had existed since the Edo period (Early 19th century) in Mito Ibaragi Prefecture. It was closed after being damaged during the Mito air raid in August 1945, and the shop name was revived after 70 years in 2015.
All Maruya frames are produced by Japanese bike craftsmen using advanced technologies developed for "Keirin"(literally "Bike Racing" in Japan, Keirin is a form of motor-paced cycle racing in which track cyclists sprint for victory following a speed-controlled start behind a motorized or non-motorized pacer).
"Maruya aims to provide elegant and timeless bicycles. To achieve this goal, Maruya continuously pursues ride quality, finish, and attractive design. These precise frames are made by "NJS"(KEIRIN) artisans, using advanced technologies developed for KEIRIN. The design is based on a Japanese traditional arts motif and finished by arts and craftspeople. Once you have discovered Japanese handmade bicycles, you will wish to possess and ride one. It will be our pleasure to serve you." — Takashi Iijima
Website: maruya-cycle.co.jp
Cicli Masi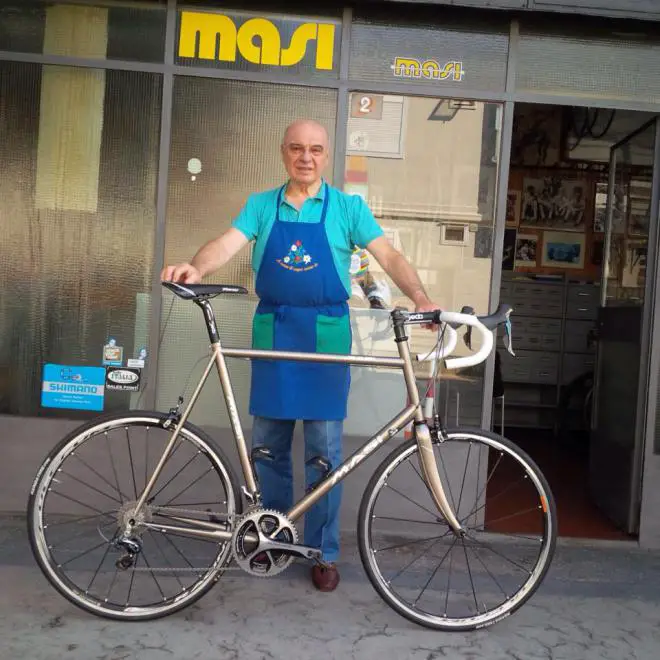 Cicli Masi's roots go back to Faliero Masi, who commenced making bicycle frames at the Vigorelli Velodrome in Milan in the 1950s, after a career as a professional racer and team mechanic. Many well-known and successful professional cyclists of the era rode Masi bikes, such as Antonio Maspes, Fausto Coppi, Tom Simpson, Felice Gimondi, Jacques Anquetil, and Eddy Merckx.
In 1973 Faliero's son Alberto took over the Vigorelli shop. Faliero and two assistants went to the US and began production at a new facility in Carlsbad, California after selling the "Cicli Masi" name and trademark to an American businessman, Roland Sahm.
Later, Faliero returned to Italy. Disputes over volume production caused a break in relations between Masi and the US Masi investors. The ownership of the US trademark remained with the US operation, so the Masi family were unable to sell bikes in the US under their own name.
Faliero Masi died in 2000. The business was taken over by his son Alberto who learned everything there was to know about bikes and bike building from his father. When he was 16, he was Fausto Coppi's mechanic at the Giro d'Italia. In 1982, he built the first bike made with oversized and ovalized tubes – the Volumetrica. Alberto Masi would later release bikes into the US under the "Milano 3V" name, he built about 500 handmade bikes per year. The U.S. rights to the Masi name and logo are now owned by Haro Bikes.
Because Cicli Masi is completely separate from Masi USA, there can be a lot of confusion about the origin of a bike – whether it was actually built by Faliero or Alberto Masi, or by Masi USA. To complicate the things further, some Masi USA frames are actually built in Italy, but not by Masi.
According to LaBicycletta.ca, if you want to know if you have an Italian or American Masi built after 1973, it's all in the numbers. Italian-built bikes have the frame size stamped on the bottom bracket and sometimes a matching size stamp and date stamp on the head tube. American-made Masi's have a serial number (with a few exceptions) or a serial number and frame size stamp. All Gran Criteriums built after 1978 are U.S.-made. And today, all frames made by Alberto Masi have his sign.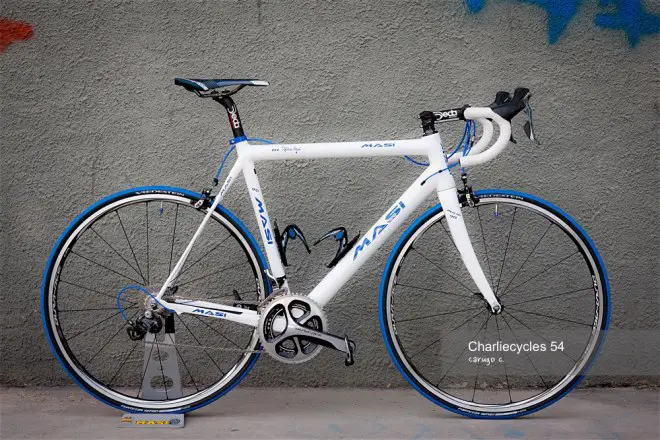 Website: Biciclette Masi Milano
Mawis Bikes
Founded by Matias Scherer, the company is located in Kleinblittersdorf, a village and a municipality in the district of Saarbrücken, in Saarland, Germany.
"Bikes say a lot about yourself. Why then should a frame not be every bit as unique as the human being riding it? That's why I love and build custom frames. I don't do production runs. I build bespoke bikes, one by one, starting with design and the geometry to fit you like a glove, continuing with a hacksaw, a file, a TIG welder, a pipe bender, and finishing everything off with an extensive manual finish and a bolt-on head badge. If I had a say everybody would ride a custom bike." — Matias Scherer
Website: mawis-bikes.com
McGovern Cycles
Founded by Chris McGovern, the company is based in Nevada City, California, United States. McGovern builds custom handmade bicycles using carbon and titanium.
Chris McGovern has been rolling on two wheels since 1978. After getting his start in BMX, McGovern was brought up through the junior ranks riding on the road. Eventually, he made the jump to the professional ranks riding for the likes of Zaxby's, Jelly Belly, Health Net, and the Sierra Nevada. While his professional racing career has ended, he has not closed the book on cycling.
He currently resides in Nevada City, CA where he owns and operates McGovern Cycles and Cycleution Coaching. McGovern's obsession with bikes led him to start building his own. What started as a side project developed into a passion to deliver a different take on the bicycle to the world. McGovern Cycles crafts versatile and stylish machines for any type of rider. Whether you are commuting into work or racing nationals, McGovern Cycles will get you where you are going efficiently and with panache.
Website: mcgoverncycles.com
Merivale Cycle Works
The company is founded by Charlie Merivale and is located in Dorset, United Kingdom.
"After a professional life using my hands, I needed to 'keep on keeping on' in retirement. I am a passionate cyclist. I have enjoyed years of commuting to work by bicycle. Sometimes, that was the best bit of the day. I have also undertaken much longer cycling trips. It, therefore, seemed reasonable to combine the need to use my hands and that passion for the bicycle."
"I built my first frame at Downland Cycles. Thereafter I attended The Bicycle Academy to further develop my skills. I believe that the bike you jump on for a trip to the shops, the bike you commute on, head to the beach on, or go camping on, should be the bike that you just love. After all, why leave your favorite bike in the shed awaiting that rare, dry, and free Saturday morning,? You might as well await the blue moon. Why not ride 'best' all of the time?" — Charlie Merivale
Merivale Cycle Works Instagram account
Meriwether Cycles
Meriwether Cycles was founded by Whit Johnson. Meriwether is his nickname, after Meriwether Lewis of Lewis and Clark (see notes 1). The company is located in Foresthill, California, United States. Johnson builds road, mountain, cyclo-x, and touring bikes with a motto of "handbuilt custom steel bicycles to help you get lost".
"I did my first mountain bike tour in 2004 and that was a game-changer for me. I have always commuted by bike as much as possible and ridden with friends on long rides and races, but touring self-supported for days at a time was… well, I found my inner Meriwether all over again. These experiences made me want to create the most utilitarian bicycles that can take you anywhere you want to go – reliably and safely – whether it be a for gravel, mountain, road, or cross." -Whit Johnson
Website: meriwethercycles.com
Métier Vélo
Founded in 2013 by Jamie White, Métier Vélo LLC is a small-scale custom bicycle design and fabrication shop in Salt Lake City, Utah, United States. Métier Vélo bicycles are built with 3D-printed titanium lugs to join carbon-fiber tubes.
Montenegro MFG.
Based in Los Angeles, California, United States, Montenegro Manufacturing produces handmade carbon fiber and bamboo bicycle frames. The company was founded (in August 2013) and is owned by Hernan Montenegro. He also offers a carbon repairing service.
"Every single product that comes out of my workshop is top-notch. I wouldn't put my name on it otherwise." -Hernan Montenegro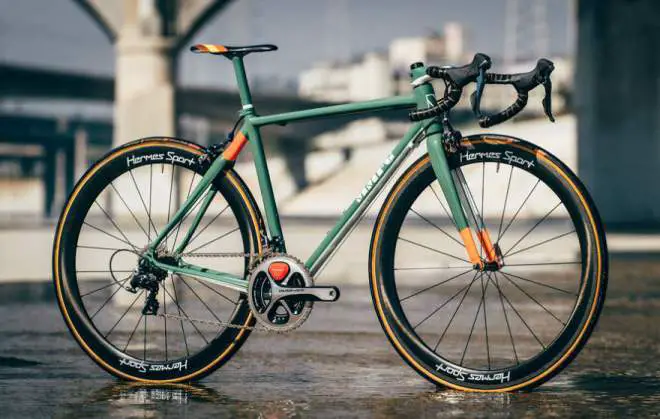 Website: montenegromfg.com
Moonmen Bikes
The company was founded by Todd Heath in 2014 and is located in Fort Collins, Colorado, United States.
"At Moonmen, we use your measurements, design preferences, and functional needs to have our industry experts create a bike that is made to fit your needs. Every detail is considered by our fabricators when designing your bike so that you don't have to."
Website: moonmenbikes.com
Moots
Moots Cycles has been handcrafting bicycle frames in Steamboat Springs, Colorado, the United States since 1981. Unlike many other manufacturers above, Moots is not a one-man show. They have more than 20 people aboard who are also active cyclists.
Website: moots.com
Mosaic Bespoke Bicycles
Located in Boulder, Colorado, United States, Mosaic Cycles is a family-operated small batch builder of handmade bicycles.
"The rider is at the center of the Mosaic process. Regardless of your needs, we have a model for you. Our materials of choice are titanium and steel. Each has different ride characteristics. Titanium is our preference due to its versatility. By using oversized butted tubing and modern design elements, titanium allows a full spectrum of ride options. It can rival the stiffness of top-shelf carbon, or create the compliant feel of all-day endurance. Mosaic steel utilizes modern tubing to achieve timeless ride quality without compromise in weight. Both steel and titanium are light and lively, but most importantly forever materials. We guarantee delivery within 6 weeks, if not sooner."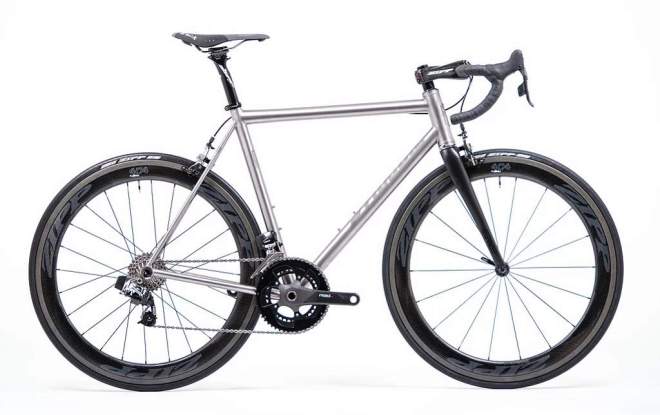 Website: mosaiccycles.com
Moss Bikes
The company is established in 2011 in Cheshire, United Kingdom. It is a family-run business with a personal touch. All Moss frames are handmade, custom-built to last by designer and craftsman Andrew Martin Jones. The aim is to design and manufacture the best bicycles, making steel frames and bikes using as many British parts as possible. All the frames are hand-painted and detailed on-site.
Website: mossbikes.co.uk
Moulton Bicycle Company
Dr. Alex Moulton pioneered the small wheeled bicycle revolution nearly 50 years ago. All of today's small wheeled cycles owe a debt of gratitude to the original Moulton 'F' frame design which not only introduced and proved the concept of full-size bicycles with small wheels but also, right from launch in 1962, have utilized front and rear suspension systems for improved comfort and performance. The Moulton bicycle has been developed and refined constantly ever since and is held in high regard throughout the world.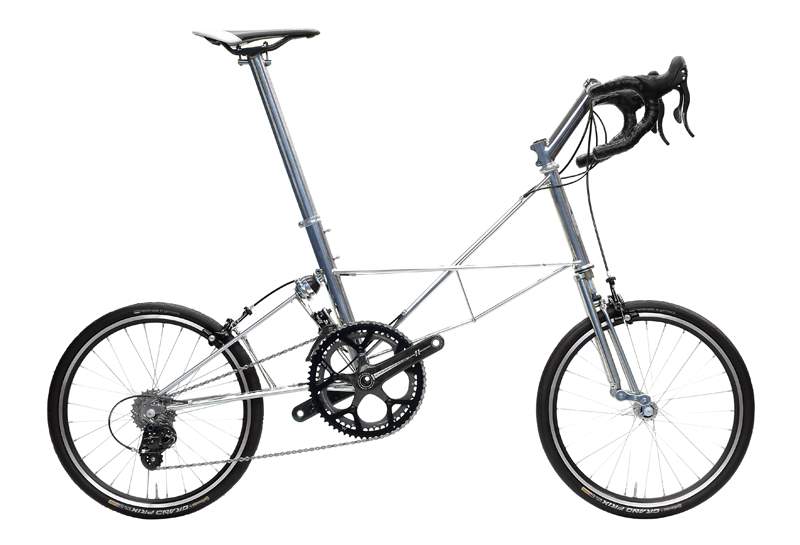 Website: moultonbicycles.co.uk
Other boutique bicycle manufacturers: A | B | C | D | E-F | G-H | I-J-K | L | M | N-O-P-Q | R | S | T | V-W | Y-Z
* According to Wikipedia, "boutique manufacturing is a method used for the custom production of certain products in limited quantities by hand or with a restricted level of automation.". (Boutique manufacturing on Wikipedia)
Notes
The Lewis and Clark Expedition from May 1804 to September 1806, also known as the Corps of Discovery Expedition, was the first American expedition to cross what is now the western portion of the United States. It began near St. Louis, made its way westward, and passed through the continental divide to reach the Pacific coast. The Corps of Discovery comprised a selected group of U.S. Army volunteers under the command of Captain Meriwether Lewis and his close friend, Second Lieutenant William Clark.
Sources
Other manufacturers
A B C D E-F G-H I-J-K L M N-O-P-Q R S T V-W Y-Z
* According to the Wikipedia, "boutique manufacturing is a method used for the custom production of certain products in limited quantities by hand or with a restricted level of automation.". (Boutique manufacturing on Wikipedia)
Latest posts by M. Özgür Nevres
(see all)