Here is the list of the boutique bicycle manufacturers, ordered by their name (starting with I, J, and K). If you want to find a unique bike that fits your personality, review this list.
The list is probably not complete, so if you want to contribute, please leave a comment below.
Other boutique bicycle manufacturers: A | B | C | D | E-F | G-H | I-J-K | L | M | N-O-P-Q | R | S | T | V-W | Y-Z
ICAN Cycling
ICAN was founded in 2008, specializing in the production of carbon wheelsets, frames, and other bike parts. Over the past 9 years, ICAN has always adhered to "quality of products in order to survive, credibility and development services" business purposes. Products are of high quality, each aspect and processes are rigorously tested and controlled. They export their products worldwide, committed to providing high-quality products and quality services.
Some ICAN products have obtained UCI certification.
Website: icancycling.com
If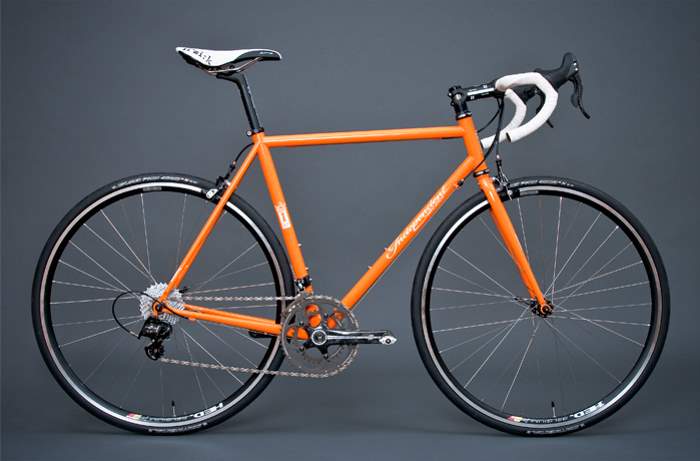 "If" stands for "Independent Fabrication". The company is founded in 1995 and is located in Newmarket, New Hampshire, United States. They build handmade road, cyclo-x, and mountain bikes.
Website: ifbikes.com
Igleheart Custom Frames
Based in Portland, Oregon, United States; the company is founded by Christopher Igleheart, who has a long association with the bicycle. After running his own shop for many years in Portland, ME, he became an early and vigorous champion of mountain bicycles. He had a big hand in the building of the iconic and coveted Fat Chance mountain bikes in the '80s.
Website: igleheartcustomframesandforks.com
Iride
Iride "Fine Italian Bicycles" are handcrafted in Italy since 1919. The founding father, Umberto Gemmati opened his workshop in 1919. The current proprietor, Carlo Gemmati, Umberto's grandson is still producing bikes. Iride bikes are also available in the United States, are imported to North America by Iride USA Incorporated in Brooklyn, New York.
They use steel and carbon fiber together in their bikes. "The steel of the bicycle frame behaves with the beneficial aspects of a spring, returning the power put in. Steel also can behave like a musical instrument, ringing with notes. Sometimes this sensation is bad. The damping properties, of the organic plastic nature of carbon fiber composites, enhance the experience of the rider. These two materials orchestrated in a reasonable sequence, reduce buzz to the rider while retaining the singing metallic sensitivity of the tuned metal."
Website: irideusa.com
ISLABIKES
In 2006, the company's founder Isla Rowntree was asked by her sister to recommend the best children's bike for her nieces. Competitive by nature, and as a 3 times British Cyclo-cross champion, someone who knows a thing or two about bikes, Isla took the challenge seriously.
Isla decided there must be a market for high-quality children's bikes. She would design them herself.
The first bikes were designed in a converted cowshed in the tiny village of Claverley in Shropshire. Isla's vision for the business was clear – to give children a better experience of cycling. This new generation of bikes would need to:
be as lightweight as possible.
be designed for the different needs of children at every growth stage.
include bespoke componentry designed for children.
be built with the highest quality materials for durability and longevity.
Months of painstaking work led to the creation of the first Islabikes.
Isla Rowntree then decided to design bicycles for old people. Early 2019 sees the launch of the "Icons" range. A range of three bikes, an urban, road and mountain model. Named after three musical revolutionaries of the 60's Janis (Joplin), Joni (Mitchell), and Jimi (Hendrix). These bikes are designed for one purpose – to give older riders many more years in the saddle.
Website: islabikes.co.uk
Jaegher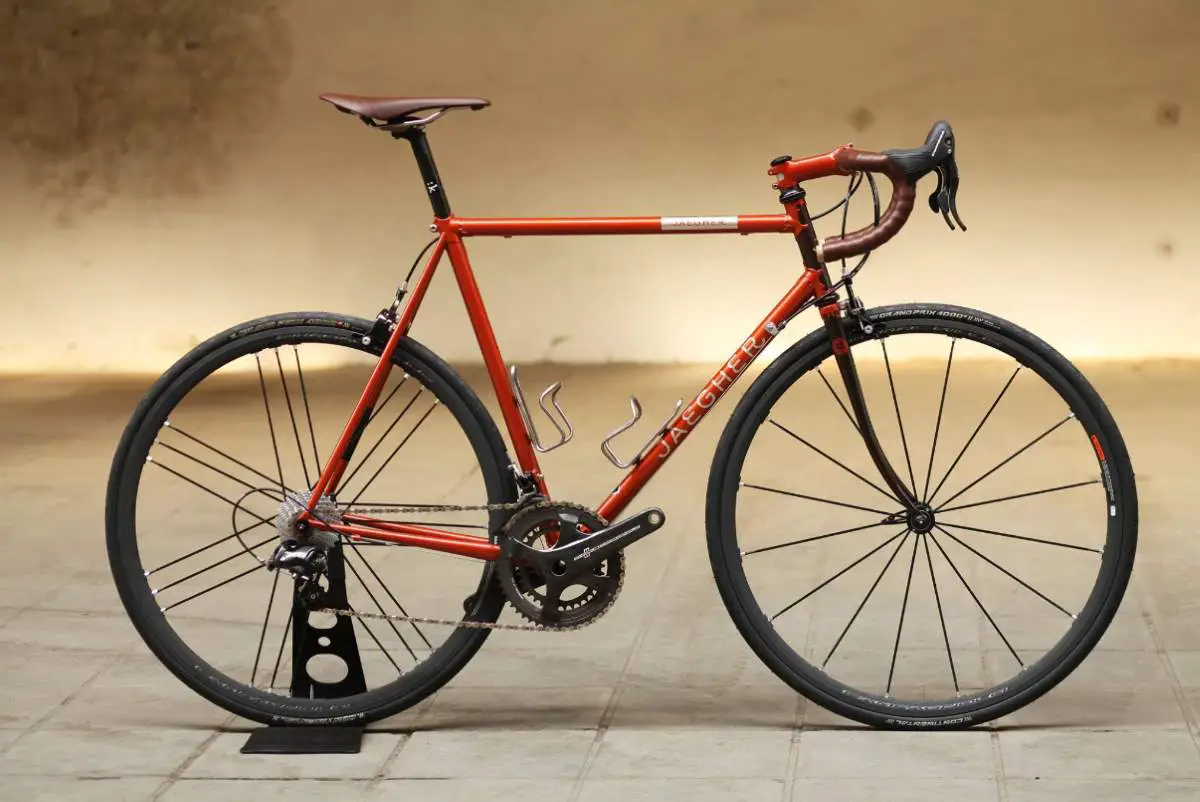 Jaegher is a Belgian brand which builds "tailor-made" steel bicycles. It was founded by Odiel Vaneenooghe, a racing cyclist. Now, Odiel's grandson, Diel Vaneenooghe owns the brand and he is also the master framebuilder. He measures every customer meticulously, builds every TIG welded frame (Interceptor and Ascender), and verifies every Jaegher cycle before it leaves the workshop. He grew up amidst the steel of our workshop in Ruiselede (West-Flanders).
Diels' father Luc (1958) is built of no lesser steel. For Luc, Eddy Merckx is not a god, but just one of the many racers who would stop by the family's workshop. Merckx would come to pick up the bikes with which he won just about every race on the planet. When you choose a Jaegher frame with lugs (Raptor Pistier or Phantom), you can be sure that Luc will weld its state of the art.
Luc learned his craft from his father Etienne (1932). Obsessed with bicycles, he started a café-come-bike shop in the fifties, in Ruiselede. Pouring pints and building bike frames, it doesn't get more Belgian than that.
Etienne's father Odiel was the first of the family with bike fever in his blood. If you wanted to participate in Milan-San Remo, you had to cycle to Milan first. Those are the times he lived in. He won the toughest leg in the Tour of Belgium in 1932. That was the start of the Jaegher adventure. Odiel was a phenomenon, and rest assured, only the one letter and the four generations separate him from Diel.
"When it comes to aesthetics, nothing beats a hand-crafted steel bicycle: it's stylish, timeless, and pure. And when it comes to performance, steel is definitely top dog. To put it simply, there is still no better material to build a bike with. The latest generation of steel has made this truer than ever."
Website: jaegher.be
Journey Bicycles
Journey Bicycles, LLC was founded in August 2014 by Matt Conrad. The company is based in Phoenix, AZ, United States, and is focused on building and repairing carbon fiber bicycle frames.
"Because each frame is completely custom, there's no exact weight for our frames. As an example, a recently finished (painted with graphics) 50cm frame weighed 1,000 grams."
"My frames aren't the lightest in the world.  I don't want to build a frame that is so fragile that you have to handle it with kid gloves.  Bicycles get knocked around sometimes and I don't want to be doing a carbon repair on one of our frames because I used a tube that was too thin for reality. Because I also have a busy carbon repair business, I see broken frames every day.  From this experience, I know that sometimes a slightly (a few ounces) more robust build would have saved the frame from damage that cost hundreds to repair." -Matt Conrad
Website: journeybicycles.com
K. Bedford Customs
Located in Greenfield, New York, United States, K. Bedford Customs was founded by Kelly Bedford. He is building bicycle frames since 1986. Previously, he worked for Serotta for 21 years as a frame builder, head of the production, and then later as the chief frame designer.
"In my tenure at Serotta I designed and built tens of thousands of bicycles, including many of the legendary American race bikes for the 7-11 and Coors Light teams, but more importantly, thousands of bicycles for passionate cyclists, many of which are still on the road."
In 2008, he left Serotta and build fine frames under his own name, and thus K Bedford was born.
Website: kbedfordcustoms.com
Kelson Custom Cycles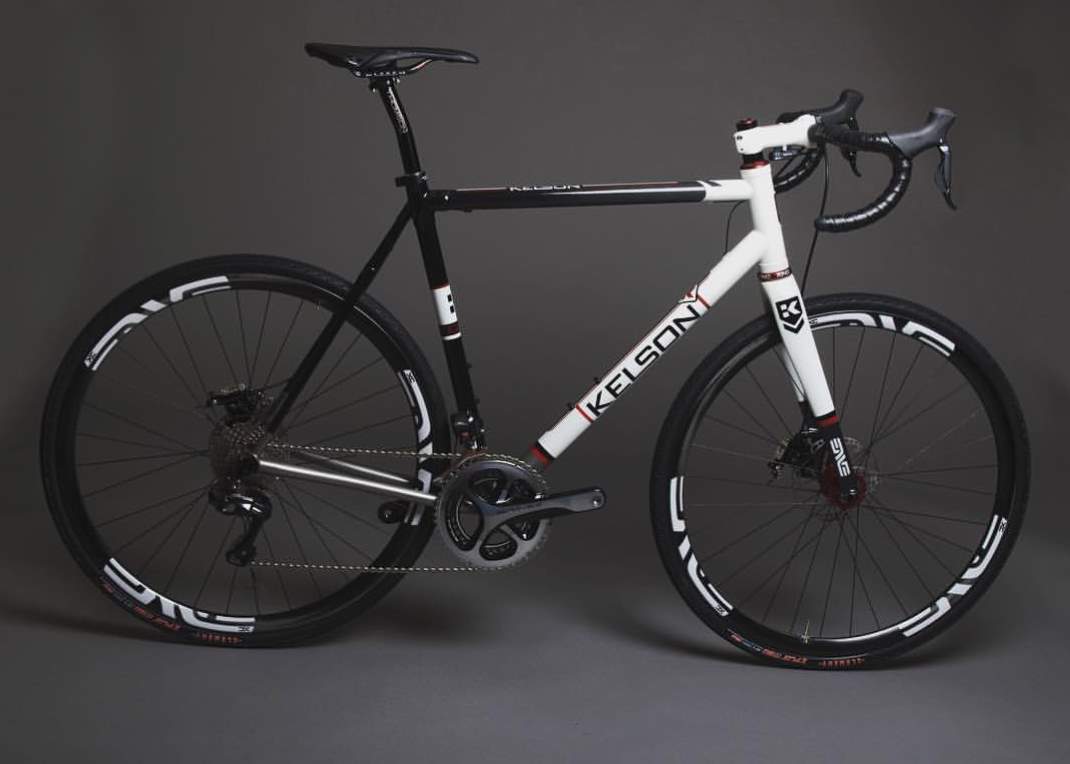 The company is based in Rexburg, Idaho, United States. Brian Williams, the master framebuilder, builds your bike from start to finish including designing, manufacturing, engineering, and even paint. He takes the time to know the bike that is right for you and takes the time to build it right. Every bicycle that he builds is unique to its individual owner. "You can hang your new bike on the wall like a work of art, or you can ride the hell out of it."
Website: kelsonbikes.com
Kent Eriksen Cycles
Founded by Kent Eriksen, who is also a bicycle racer himself, the American company has won many awards: Best Gravel Grinder and Best TIG Frame at the NAHBS (North American Handmade Bike Show) 2016, Best TIG Frame at the NAHBS 2015, Best Road Bike and Best Tig Frame at the NAHBS 2014, Best Titanium Construction and at the NAHBS 2013, Best Titanium Bike and Best Tandem at the NAHBS 2012, Best Tandem at the NAHBS 2011, Best Titanium Bike at the NAHBS 2010, Best Titanium Bike at the NAHBS 2009, and Builder of the Year at the Rocky Mountain Handmade Bike Show 2009.
Website: kenteriksen.com
Kirk Frameworks
Located in Bozeman, Montana, United States, the company was founded by David Kirk in 2003, when he had already fourteen years of experience working as a professional framebuilder. David uses exclusively steel and offers both lugged and fillet brazed construction. No two bikes are identical and each one reflects a combination of his twenty-five years of professional experience as a framebuilder and the rider's individual wants and needs.
Website: kirkframeworks.com
KirkLee Bicycles
KirkLee is located in Texas, United States. They build custom carbon frames.
"Should you ever hear 'carbon has no soul,' they are not talking about KirkLee." -Brad Cason
Website: kirkleebicycles.com
Krattli Cycles
Founded by David Krattli in 2013, the company is based in San Ramon, California, United States. David specializes in custom lugged steel construction.
Facebook Page: facebook.com/krattlicycles
Other boutique bicycle manufacturers: A | B | C | D | E-F | G-H | I-J-K | L | M | N-O-P-Q | R | S | T | V-W | Y-Z
* According to Wikipedia, "boutique manufacturing is a method used for the custom production of certain products in limited quantities by hand or with a restricted level of automation.". (Boutique manufacturing on Wikipedia)
Latest posts by M. Özgür Nevres
(see all)