Here is the list of the boutique bicycle manufacturers, ordered by their name (starting with N, O, P, and Q). If you want to find a unique bike that fits your personality, review this list.
The list is probably not complete, so if you want to contribute, please leave a comment below.
Other boutique bicycle manufacturers: A | B | C | D | E-F | G-H | I-J-K | L | M | N-O-P-Q | R | S | T | V-W | Y-Z
Naked Bicycles
Founded by Sam Whittingham in 1988, Naked Bicycles is a custom bicycle manufacturing company creating custom frames.
"The bicycle is the most amazing thing to us. We work with them and ride them every day and yet they never cease to amaze. We love that with a few simple tools, we can create something that will take you around a velodrome in only a few seconds or around the world at just the right speed. It is our goal to build bikes that not only get you from A to B but make sure you arrive out of breath and with a monster size grin on your face."
Website: nakedbicycles.com
Nevi Titanium Bikes
Nevi Titanium Bikes is an Italian brand founded by former road racing cyclist Sergio Finazzi in 1992.  Finazzi's stage victory at the Tirreno Adriatico in 1987 was famous.
They build handmade titanium bicycles. The company is able to meet the different needs of customers, starting from the raw material to the finished product.
Nevi works with a commitment to continuously improve the methods of managing the assembly and welding processes of titanium components for industry and to achieve a high level of effectiveness and efficiency in the design, assembly, and welding of bicycles in titanium.
Website: nevi-titanio.com
No. 22
The company is named after titanium, which has an atomic number of 22. It is located in Toronto, Ontario, Canada.
Bryce & Mike, the founders of the company, announce:
"Our point of departure is frame material: we fell in love with the ride of titanium and named our company after it. We then took to the task of sweating details of fit and finish. Our frames are based on carefully considered geometries and tubing profiles. We use the highest grades of titanium tubing available, build our frames in our own production facility in the United States with our veteran craftsmen, and confidently back them with our ten-year warranty."
"We carry this meticulous approach through to our clean-lined and contemporary finishes that showcase the beauty of raw and anodized titanium. No. 22 is still a young brand, but we are spurred on by the number of passionate cyclists that agree with our approach. With our current lineup, we are proud to be producing more bikes that make the destination second to the journey."
Web Site: 22bicycles.com
Oddity Cycles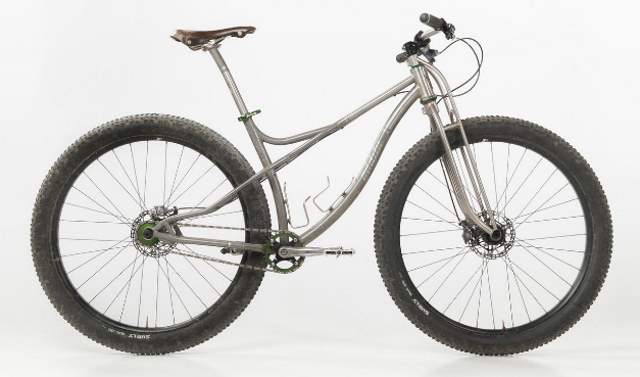 The company was founded by Sean Burns and is located in Fort Collins, Colorado, United States. They build mostly mountain bikes and fat bikes, and some interesting road machines (not road racing bikes).
Sean Burns is an architect turned bike designer and builder, so aesthetics are never far from his mind. His bikes have a distinctly tight rear end, which he calls "tucked". "It makes the bike more fun to ride, the front wheel comes off the ground a lot easier which gives a more playful feel to rides. For me, the bike is for fun and enjoyment, rather than a tool for exercise," says Burns.
Web Site: odditycycles.com
Officina Battaglin
The Officina Battaglin brand was founded in 2014 by Giovanni Battaglin, the Italian ex-rider who achieved the Giro-Vuelta double in 1981. After a 20-year break, he is now back to brazing steel frames, just like he used to do before aluminum and carbon became the de facto standard for bicycle production.
Using the original process and craftsmen, Giovanni Battaglin is reviving his legacy, being the only Italian steelmaker to have significant experience riding steel in the pro peloton. The company is located in Viale Vicenza 4/1, Marostica, Italy.
"If you're after a true Italian handmade steel road frame, you're more than a little concerned about how and where your steel frame will steelmaker. Every single step of our production process takes place in a small workshop in Italy. Our craftsmen will be the only people who will manufacture the frames, following a process we know everything about."
Giovanni Battaglin (born 22 July 1951) is a former Italian professional road racing cyclist.He won both Giro d'Italia and Vuelta a España in 1981. This achievement is notable because the Vuelta was running before Giro in those years, not in late August like today.
The 1973 Giro d'Italia began in Verviers in Belgium and was Battaglin's debut in a grand tour. Battaglin immediately showed promise when he finished third on stage four ahead of Eddy Merckx and José Manuel Fuente. By halfway through the race, Battaglin was sitting in second place overall behind Merckx but lost that placing to Felice Gimondi. Still, at the age of 21, the neo-pro astonished the cycling world by finishing third in the race.
Battaglin would wear the maglia rosa for five days in the 1975 Giro d'Italia as well as several stage wins and wins in smaller stage races. He also won the King of the Mountains jersey in the 1979 Tour de France, even after he received a penalty for testing positive for doping.
Battaglin finished third in the 1980 Giro d'Italia. The following year on the tenth stage mountain time trial of 1981 Vuelta a España which was on the long climb to the Sierra Nevada, Battaglin won the stage and took over the leader's jersey. The only threat to Battaglin's lead was Pedro Muñoz. Battaglin and his Inoxpran team withstood the challenge from the Spanish and brought Battaglin to his first grand tour victory.
Three days later after Battalin's triumph in Spain on 13 May 1981, he began the 1981 Giro d'Italia. On the 19th stage toward the end of the race, Battaglin won the stage to Mareo and took the maglia rosa from Silvano Contini. He withstood the final test – the final stage's individual time trial to win the race in Verona ahead of Tommy Prim.
Battaglin was only the second rider after Eddy Merckx to win the Vuelta-Giro double. In the space of only one and a half months, Battaglin won two of the grand tours.
Web Site: officinabattaglin.com
Parlee Cycles
Parlee Cycles was founded by Bob Parlee in 2000. The company is located in Beverly, Massachusetts, United States. The company builds custom handmade carbon bicycles. Mr. Parlee has 20+ years of experience in the boat-building business, which helped him to understand the capabilities of composite materials.
"Carbon fiber is perfect for building bikes because it has such a high strength-to-weight ratio and that's why it doesn't make sense to focus on styling, which just adds weight and reduces ride quality. It's akin to putting fins on a car. They may look cool, but they don't make the car faster. Instead, our guiding principle is efficiency. We use carbon fiber strategically to achieve a certain level of performance. To create a bike specifically for you that does exactly what it's intended to do-whether that's road racing, daily training rides, cyclocross, or all-day epics."
"Targeted performance meets a tailor-made fit. That's what defines a Parlee bike." -Bob Parlee
Web Site: parleecycles.com
Passoni
Passoni is located in Vimercate, Italy. Their projects are bespoke. Each customer's frame is unique and customized by hand in its geometry, design, and components.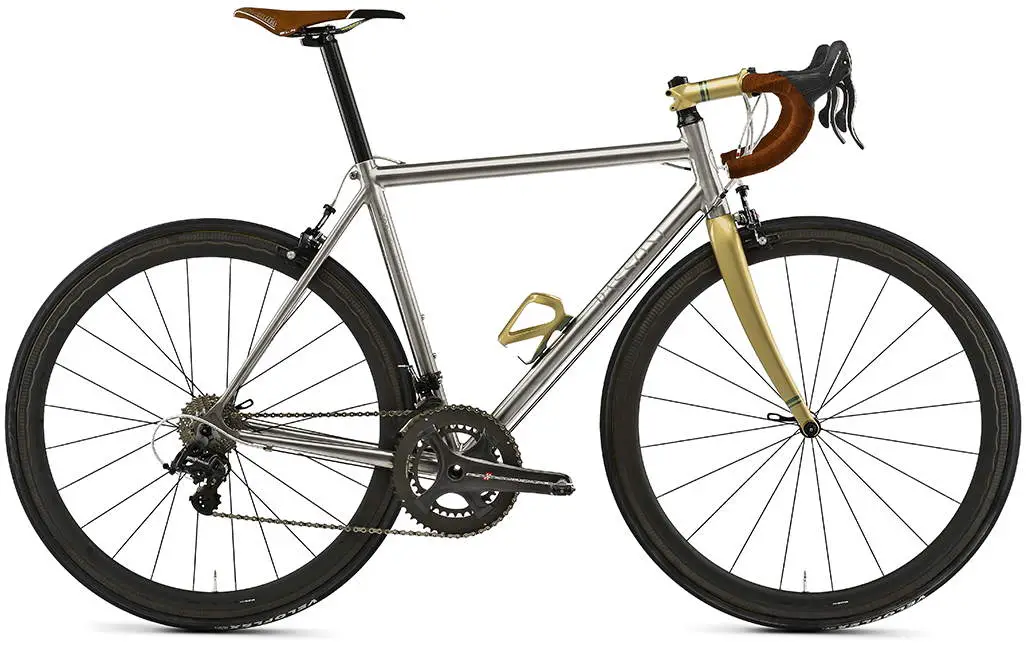 Pedalino Bicycles
Located in Lenexa, Kansas, United States, Pedalino Bicycles was founded by Julie Ann Pedalino. She started custom frame building after ten plus years of working as a fine artist and graphic designer. She says her focus is on fit for all riders, but especially for the smaller riders who struggle to find a production frame that fits well.
"Besides fit and function, my other very strong interest is in creating frames with a bit of panache! Custom isn't just about performance – it's about self-expression, the mystique of the handmade object, the creative process: aesthetics, design, and beauty. We spend so much time on our bikes, why not ride one that speaks to body, mind, and soul?" -Julie Ann Pedalino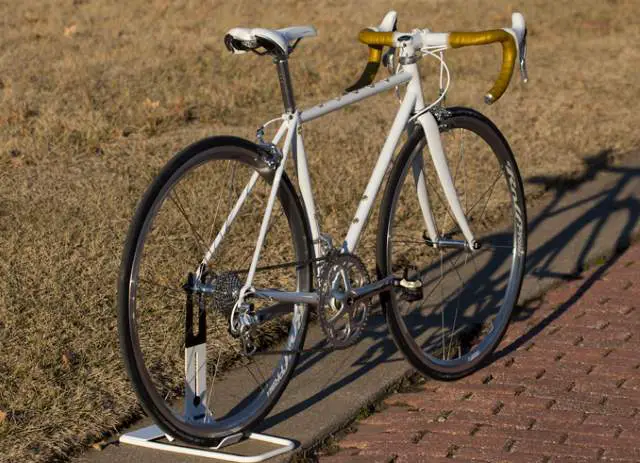 Web Site: pedalinobicycles.com
Pegoretti
The company is founded by Dario Pegoretti (January 18, 1956 – August 23, 2018), one of the most respected master framebuilders in the world.
Dario Pegoretti designed and built frames that were ridden by Miguel Indurain, Marco Pantani, Stephen Roche, Claudio Chiappucci, Mario Cipollini, and Andrea Tafi among others. For example, 1994 would be the last year the Tour de France was won on a steel bike, this time an Oria-tubed, TIG-welded machine badged as a Pinarello but rumored to have been made under contract by Dario Pegoretti.
Pegoretti won the President's Choice award at the 2007 North American Handmade Bicycle Show and framebuilder of the year at the 2008 show.
After Dario's passing in 2018, the "Bottega" continues to be inspired by his unique outlook on life, and today, the workshop remains a place for those who seek individual, honest products, built with precision, quality, and timeless style.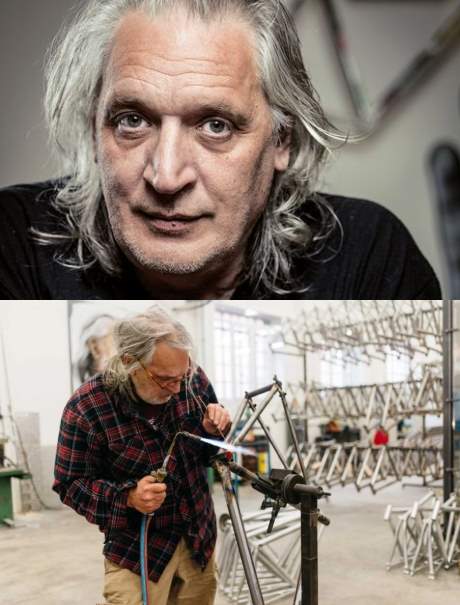 Web Site: dariopegoretti.com
Pelizzoli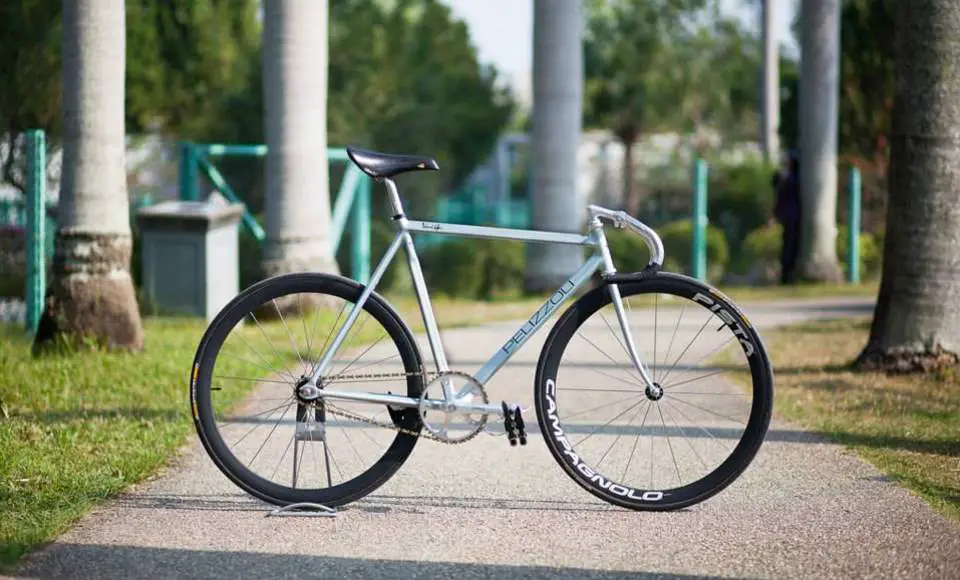 Founded in 1967, Cicli Pelizzoli is based in Curno, Bergamo, Italy. Their bikes are 100% handmade built in Italy. The famous Ciocc bicycles company was started by Giovanni Pelizzoli himself. According to Pelizolli, Ciocc was a nickname ("Poker Face" in the dialect around Bergamo) given to himself, his father, and his grandfather – so he put it on his bikes.
In 1977, amateur racer Claudio Corti won the U23 Worlds in San Cristobal, Venezuela on a Ciocc. The company's signature model was called the "San Cristobal", to honor this achievement.
During the 70s and 80s, the Polish National Team used Ciocc bikes, and at the 1980 Olympics in Moscow, Czeslaw Lang of Poland rode a Ciocc to a second-place finish in the 189 km individual road race. Afterward, Pelizzoli started to build a model known as the "Mockba 1980."
In 1980, Pelizzoli sold the Ciocc name. In 1983, he began building frames under the Pelizzoli name. Today, Pelizzoli builds a few of his own frames, but he is primarily known for his amazing paint jobs. His frame painting company is called TITAAC and along with his own frames, he paints Guerciotti frames and also builds some aluminum frames for Guerciotti.
Web Site: ciclipelizzoli.it
Peter Mooney Cycles
Peter Mooney Cycles is a part of Wheelworks, in Belmont, Massachusetts, United States. Peter has played a major role in developing Wheelworks into one of New England's premiere bicycle retailers. He and like-minded partners opened the first Wheelworks store in 1977. He is still building bicycle frames, catering to a market that appreciates a hand-built, lugged, or filet-brazed frame.
Why lugged steel? In an age of welded joints and high-tech materials, why continue building frames using this old-fashioned method? Peter explains:
"The price of a high-quality lug set, bottom bracket, and fork crown can be close to the price of the entire tube set. It's no wonder so many frame builders have chosen welding as a replacement. Lugs reinforce high wear areas on a frame. They provide an extra thickness where headset cups and seatpost clamps can distort thin-walled tubes or require the use of thicker, heavier tubing. Lugs can also facilitate easier tube replacement and repairs, should they be necessary."
"And practicality aside, lugs unquestionably add much to the beauty of your bicycle. All in all, I continue using steel for its smooth road handling personality, and lugs for their aesthetic charm. The finished result is one I take great pride in and trust you will too."
Web Site: peter-mooney.com
Peter Weigle Cycles
Peter Weigle is one of the finest bicycle framebuilders in the United States. Peter lives in Lyme, CT. He creates interesting Cyclotouring bicycles.
Facebook page: Peter Weigle Cycles
Pogliaghi
Founded by Sante Pogliaghi, the company is based in Milan, Italy. Alcide Basso acquired the brand in 1993. Sante Pogliaghi saw in the young but already experienced frame maker his natural follower. He passed to Alcide his designs, his specially made lugs and seals, the beautiful fork crowns, and brake bridges.
Those were the years of the development of carbon frames and just a few appreciated the characteristics of steel frames. This legacy has been preserved by Alcide Basso until today when at last many are rediscovering the noble material such as steel frames.
The idea of Alcide Basso is to maintain the same philosophy of Sante Pogliaghi: to propose not only custom bikes but to offer bikes that are "sewn on".
Web Site: pogliaghiitalcorsemilano.com
Portus Cycles
The German company was founded in 2014 and is located in Pforzheim. They build custom handmade steel bicycles.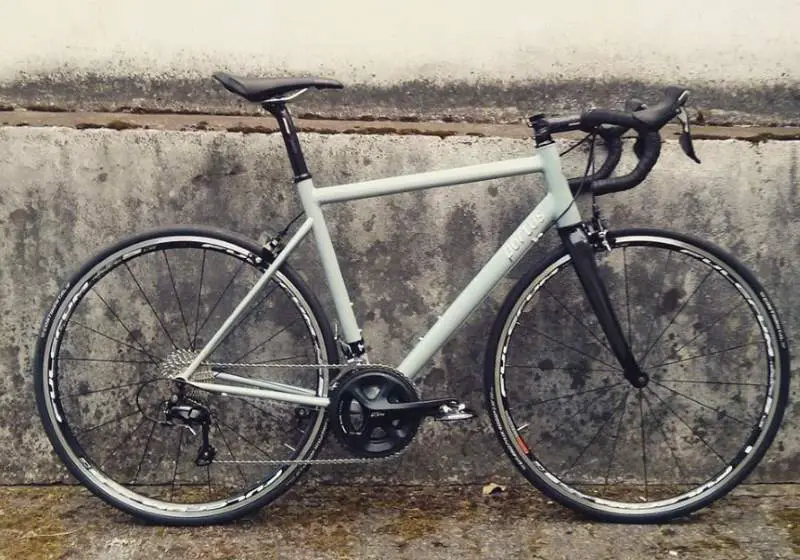 Web Site: portus-cycles.de
Quiring Cycles
Quiring Cycles was founded in 1999 by Scott Quiring, who is an avid cyclist since 1987. He started racing in 1989. In 1992, he got his first exposure to framebuilding from a company called Greendale Bicycle Co., which was local to his area, and they produced Quiring a custom race bike.
He quickly discovered that the custom bike in every way outperformed his previous off-the-shelf bikes. The 1996/1997 season was a big year for Quiring as he raced professionally on the Bianchi-Martini Racing Team, which was an international team that traveled around the States and the World to compete in National and World Cup events.
When the team became defunct at the end of 1997, Quiring decided he needed to build a frame to his specs for racing and get back the feeling that his first custom provided. After many years of hard work that followed, Quiring Cycles, LLC, was finally formed in 1999 in order to make high-quality bicycles.
Web Site: quiringcycles.net
Other boutique bicycle manufacturers: A | B | C | D | E-F | G-H | I-J-K | L | M | N-O-P-Q | R | S | T | V-W | Y-Z
* According to Wikipedia, "boutique manufacturing is a method used for the custom production of certain products in limited quantities by hand or with a restricted level of automation.". (Boutique manufacturing on Wikipedia)
Sources
Latest posts by M. Özgür Nevres
(see all)