Here is the list of the boutique bicycle manufacturers, ordered by their name (starting with T). If you want to find a unique bike that fits your personality, review this list.
The list is probably not complete, so if you want to contribute, please leave a comment below.
Other boutique bicycle manufacturers: A | B | C | D | E-F | G-H | I-J-K | L | M | N-O-P-Q | R | S | T | V-W | Y-Z
Ted Wojcik Custom Bicycles
Ted Wojcik (pronounced woah-jik) worked on gas turbine engines and helicopter transmission systems during the Vietnam War where he gained extensive engineering and mechanical experience. He worked for several motorcycle specialty shops in New England and became one of the leading motorcycle racers in New England racing on a national level.
He got his start when he met his future wife, Sue Abrahamson, an avid cyclist At 5'2″, she was having a hard time finding a bike that she could ride. Having already learned the art of motorcycle frame fabrication through his racing experience, Ted ordered tubing from a local bike shop to build his wife a bicycle. Already an accomplished welder, Ted decided to try his hand at creating bicycle frames.
Built in Ted's basement, the next frame was sold before it was completed. Ted figured this was a good sign so he made a few more frames, selling them locally. He worked out of his home until 1990 when he set up a shop dedicated to producing more frames.
After more than 25 years of designing and manufacturing bicycle frames, Ted is revered as one of the masters of the trade. His bicycles have won medals at USCF championships, NORBA events, Tour Du Pont, the Pan-Am Games, and World Championship Track events.
Today, Ted Wojcik builds bikes in New England. He still cuts, welds, brazes; and paints the frames by hand.
Website: tedwojcikcustombicycles.com
Ti Cycles
Located in Portland, Oregon, United States, the company was founded in 1990 by Dave Levy. At the time, titanium was an exotic metal still in the nascent stages of common use as a bicycle frame material. Over the dozen years that followed Dave built hundreds of frames, forks, and components as the Ti Cycles brand diversified into a full line of production bikes including road, cyclocross, and mountain bikes in titanium, steel, and even some aluminum.
Ti Cycles caters to all levels and all disciplines of cycling, from the enthusiast weekender to professional racers around the world. In addition to offering completely bespoke custom frames, forks, and components, Ti Cycles has developed production-built bikes and parts in both steel and titanium. Through a quarter-century of continuous operation, the company has built thousands of frames for a diverse roster of riders.
Dave has himself been an avid cyclist for decades and has some 35 years of cumulative experience in the bicycle industry. A licensed USCF and NORBA racer, experienced tourist, commuter, and tandem rider, Dave appreciates the bike's application for sport and in everyday life. His passion for cycling in all its forms affords Ti Cycles customers an experienced resource to guide them through the process of building their dream machine.
Website: ticycles.com
Tommasini
Perhaps no other company epitomizes Italian bicycles like Tommasini. Tommasini is truly made in Italy with 100% of production coming from the small shop in Grosseto, Italy. Here in 1957, Irio Tommasini began his commercial endeavor building exquisite steel road bikes known for exceptional quality, performance, and beautiful paint and finish. Irio Tommasini has been a master frame-builder since 1948 and in his time was a successful rider in the world of racing.
Today, Tommasini Bicycles still produces artisan quality steel road bikes but has expanded to high-tech materials like carbon, titanium, aluminum, and state-of-the-art stainless steel using Columbus XCR tubing.
Website: tommasini.it
tout terrain
The company is located in Gundelfingen, Germany. All the bikes are designed and manufactured in Gundelfingen. Depending on the model, the frame tubes come are from Italian premium steel maker Dedacciai, the frames are manufactured by European or Taiwanese frame builders.
All subsequent manufacturing steps happen in-house: the incoming frames are thoroughly inspected in the quality control department before they are further processed in our own powder coating shop and they become sandblasted, powder-coated in the customer's requested color. In addition to the 10 standard colors, a wide range of RAL colors is available for color selection.
tout terrain bicycles are carefully assembled by hand. They build urban/touring bikes as well as e-bikes.
Website: tout-terrain.de
T°red Bikes
The company is located in Piacenza, Italy. According to their website, it is the first production company in the world born from a research and development laboratory on materials and the design of objects and components with strong innovative content. The experience gained in fields such as bio-medical, aerospace, automotive, or industrial design has allowed transferring, developing, and optimizing innovative materials and technologies around a passion.
All T°red Bikes models are handmade & built in Italy.
Website: tredbikes.bigwinitalia.com
Triton Bikes
Founded in 2005, Triton Bikes is located in Moscow, Russia. They build titanium frames and components made ​​by hand. They can ship worldwide in 5-10 days.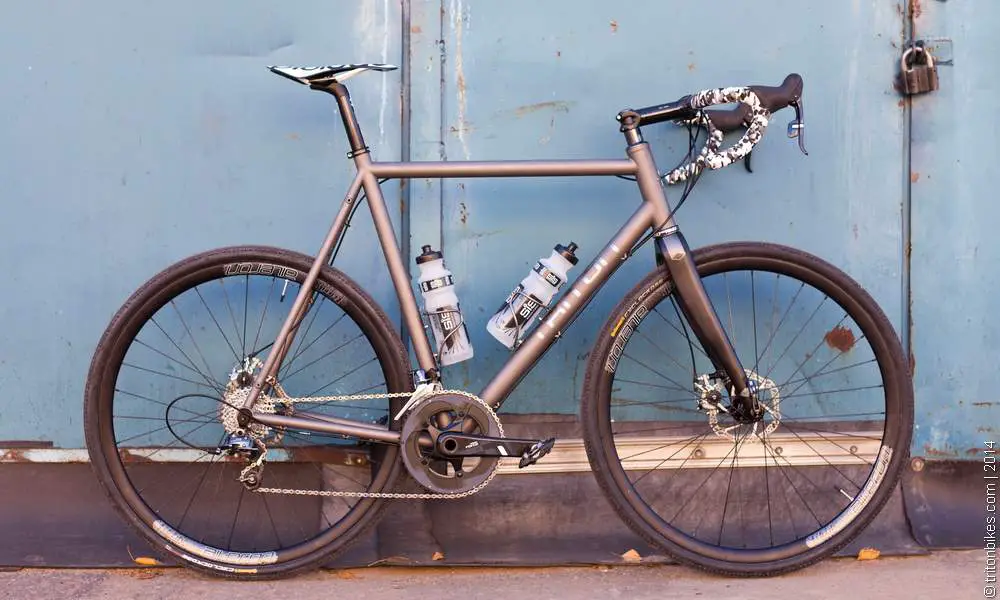 Website: tritonbikes.com
Tsubasa Bicycles
Based in London, United Kingdom, Tsubasa is a small bespoke framebuilder that works exclusively with carbon fiber. Every part of the frame is fashioned in Tsubasa's London workshop.
Website: tsubasabicycles.com
Other boutique bicycle manufacturers: A | B | C | D | E-F | G-H | I-J-K | L | M | N-O-P-Q | R | S | T | V-W | Y-Z
* According to Wikipedia, "boutique manufacturing is a method used for the custom production of certain products in limited quantities by hand or with a restricted level of automation." (Boutique manufacturing on Wikipedia)
Latest posts by M. Özgür Nevres
(see all)