Here is the list of the boutique bicycle manufacturers, ordered by their name (starting with SO-SP). If you want to find a unique bike that fits your personality, review this list.
The list is probably not complete, so if you want to contribute, please leave a comment below.
Other boutique bicycle manufacturers: A | B | C | D | E-F | G-H | I-J-K | L | M | N-O-P-Q | R | S | T | V-W | Y-Z
SOMEC
Founded by Oliviero Gallegati in 1973, the company is located in Sant'Agata sul Santerno, Ravenna, Italy. SOMEC comes from the Italian "Mechanic's Society" acronym, "Societa Mechanica". In the beginning, the bikes were sold to local cyclists but with increased exposure at international bike shows, SOMEC received orders from many foreign customers fascinated with the work of SOMEC's superbly skilled artisans. Now SOMEC distributes its products all over the world. They build almost all types of bicycles made from all popular materials (carbon, titanium, steel, and aluminum).
Website: somec.com
Sotherland Custom Bicycles
Founded by John Sotherland, the company is located in Whitewater, Wisconsin, United States. Sotherland is hand-crafting custom bicycles for more than 20 years.
Website: sotherlandbikes.com
Soulcraft
The company is located in Petaluma, California, United States. It was founded by Sean Walling, who has more than 25 years of experience and previously worked for Bruce Gordon Cycles and Salsa Cycles.
"We want the bike to "disappear" beneath you so you can concentrate on riding; a bike that fits and handles so well you don't think about what you're doing, you simply do it." -Sean Walling
Website: soulcraftbikes.com
Soulrider Frameworks
Based in Istanbul, Turkey, Soulrider Frameworks was founded by Yasin C. Bingöl, a metallurgical engineer and also an avid cyclist.
"If you want to be different in the bunch and want to feel the silky ride of the steel bicycle which is built only for you then Soulrider Frameworks at your service."
Spectrum Cycles
Spectrum Cycles was founded by Tom Kellogg in 1982. In 1985 Tom employed Master Signature frame builder and long-time friend Jeff Duser.
Today the Spectrum facilities are housed in a 185-year-old stone barn located in the heart of the Lehigh Valley of eastern Pennsylvania, United States. At Spectrum, Tom and Jeff are still dedicated to the design and construction of the finest custom steel and titanium frames and bicycles available.
Spectrum is widely recognized as one of the finest steel frame repairs and refinishing shops in the United States. They offer a full line of repair and refinishing services. To ensure the highest quality work on repairs and refinishing, they accept limited numbers of frames per quarter.
Custom Steel frames are available for Road, Track, Touring, Tri. Brevet, Adventure, and Cyclo-X (sorry, we don't do mountain bikes).
All Custom Titanium frames are designed by Tom Kellogg and built-in partnership with Seven Cycles and Merlin Metal Works.
Spectrum Titanium frames are unique with Spectrum's exclusive glass-smooth welds, a totally clean look.
All frames sets include frame, fork, and headset.
Spectrum offers ENVE, WoundUp, Pegoretti, and Seven forks to compliment their Custom Titanium frames (which one is up to you…Custom means Custom).
Spectrum Cycles only supplies Chris King headsets. They say "there's no reason to offer others".
Columbus, Reynolds, True Temper, Dedacciai, and others manufacture Spectrum steel tubing. They choose each tube individually to tune the frame qualities for you. Therefore complete tube-sets, though cheaper to build with, are not used.
Our Lugs are our own hand made lugs. They obsessively work the lugs, finishing them to our exacting specifications to ensure maximum strength and classic appearance.
All decals are buried, i.e…you can't feel them or peel them. Decal lettering colors are black or white, with custom color graphics available.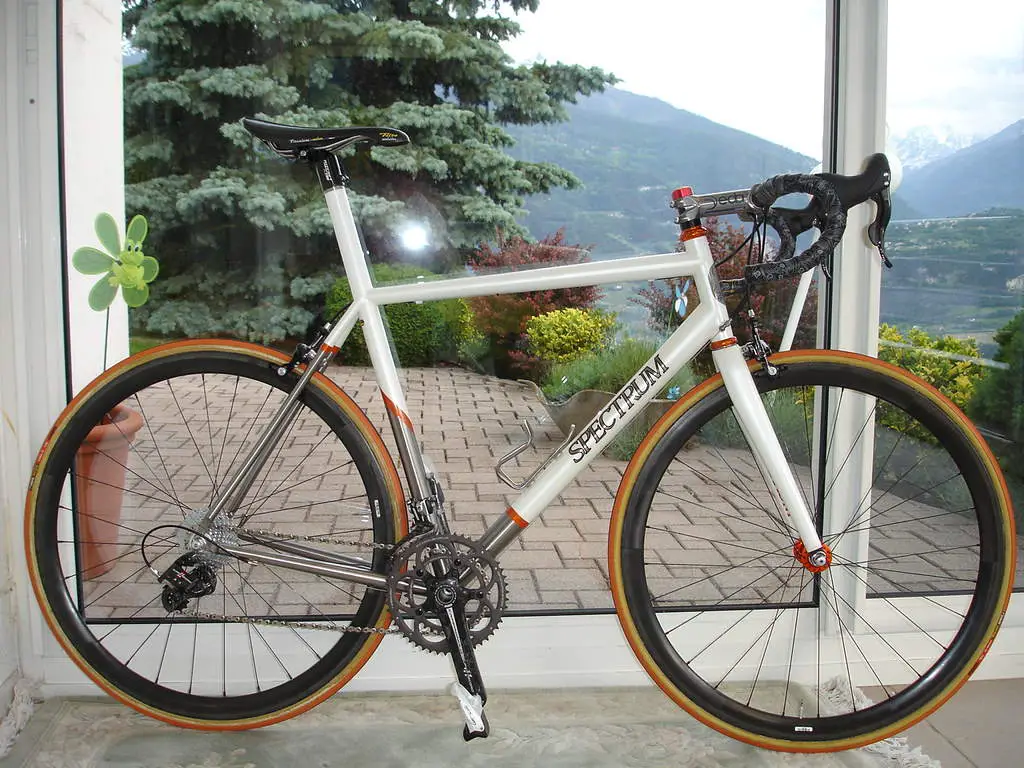 Website: spectrum-cycles.com
Speedvagen
Located in Portland, Oregon, United States, Speedvagen manufactures limited production, steel race bikes designed and built by hand.
Website: speedvagen.com
Spooky Cycles
The company was first founded in New England in 1992. In 2000, the owners walked away and it was disbanded. A few years later, Spooky 2.0 was born. But, the brand again stepped down and took its last breath. In 2016, Spooky Cycles is again resurrected. Today, it is located in Portland, Oregon, United States.
All aluminum bikes are being made by Frank the Welder in Vermont. They use Dedacciai tubing mixed with US-made bottom brackets, head tubes, and dropouts.
Website: wearespooky.com
Other boutique bicycle manufacturers: A | B | C | D | E-F | G-H | I-J-K | L | M | N-O-P-Q | R | S | T | V-W | Y-Z
* According to Wikipedia, "boutique manufacturing is a method used for the custom production of certain products in limited quantities by hand or with a restricted level of automation". (Boutique manufacturing on Wikipedia)
Latest posts by M. Özgür Nevres
(see all)