Here is the list of the boutique bicycle manufacturers, ordered by their name (starting with SE-SK). If you want to find a unique bike that fits your personality, review this list.
The list is probably not complete, so if you want to contribute, please leave a comment below.
Other boutique bicycle manufacturers: A | B | C | D | E-F | G-H | I-J-K | L | M | N-O-P-Q | R | S | T | V-W | Y-Z
Seven Cycles
Seven Cycles was incorporated in January 1997 and shipped its first bicycle frame in early April of the same year. The company was initially based in Topsfield, Mass., then moved to its current location in Watertown, Mass. in February of 1998. Founder and president Rob Vandermark and the Seven Cycles team have been working with titanium since its introduction into the cycling industry, pioneering many of the design and manufacturing techniques used throughout the industry today.
Seven operates in 15,000 square feet of industrial space in Watertown, Mass. Approximately 9,000 square feet are dedicated to manufacturing, 4,000 square feet to office space, and the remainder to a break room, lockers, commuter bike parking, and a meeting area.
Seven Cycles manufactures high-end bicycle frames from butted and straight-gauge domestically sourced seamless 3-2.5 titanium, filament-wound carbon fiber, and the world's finest steels. Seven offers a wide variety of frame styles-road, touring, triathlon, criterium, track, cyclocross, mountain, suspension, and tandems-in the customer's choice of stock or custom geometry. The company also manufactures a custom titanium stem and mountain bike handlebar and offers an exclusive carbon fiber road fork, as well as aluminum handlebars, stems, and seat posts. All of Seven's frames come with a lifetime warranty against defects in manufacturing and materials.
In the United States, Seven sells its frames through authorized Seven retailers – typically independent bicycle retailers with the capability to serve the high-end clientele.
Seven currently works with nearly 200 authorized retailers in the United States, with California, New York, and Boston as the strongest markets. Seven is also represented internationally through approximately thirty distributors.
Website: sevencycles.com
Shamrock Cycles
Located in Indianapolis, Indiana, United States, Shamrock Cycles was founded by Tim O'Donnell.
"One of the big questions always asked is why would I want to use steel to build frames instead of aluminum, titanium, carbon fiber, bamboo, swizzle sticks, etc? The answer is really quite simple, no material can match the ride quality, durability, and life cycle of good quality steel. The days of "gas line" steel are gone. Most folks remember their old Schwinn being steel and it was heavy and clunky. Nowadays steel can be as light, if not lighter, than the other sexy or exotic materials you see splashed across the pages of your cycling magazine." -Tim O'Donnell
Website: shamrockcycles.cc
Signal Cycles
Located in Portland, Oregon, United States, Signal Cycles was formed in the fall of 2007, as two recent art school grads and longtime bike shop employees came together to get creative. At first a night and weekend hobby, early projects helped Signal quickly gain attention, and Nate Meschke and Matt Cardinal officially opened Signal's doors in February of 2008.
Over the years Signal has collected awards, been featured in the significant press, and directed unique design commissions and collaborations. Signal won the "Best City Bike" award at the 2011 North American Handbuilt Bike Show. They have worked with Rapha, supplying a bike for their Continental team.
In 2011 Signal joined forces with a global industrial design firm, Ziba, to create the "ultimate utility bike" for the Oregon Manifest challenge. The entire six-month collaboration was chronicled on the design super site Core 77. In 2012, women's fashion giant, Anthropologie, commissioned Signal to design and fabricate a small collection of picnic bikes that were sold on their website.
Web Site: signalcycles.com
Silent Cycles
Located in Chattanooga, Tennessee, United States, Silent Cycles tailors custom steel bicycles.
Silent Cycles website
Sixth Law Cycles
The company is located in Salt Lake City, Utah, United States. They can add a Shimano STePS electric assist system to any bike for an additional $1500. This is a mid-mount system that includes the motor, battery, and controller, and will give you about 40 miles of range using a fairly aggressive boost setting. For many people commuting in a city, this is enough to get back and forth to work for a week or two on a charge. If you conserve the battery by using the assist feature only when you need a little extra help or set it to give you a gentler push, you can significantly extend the range.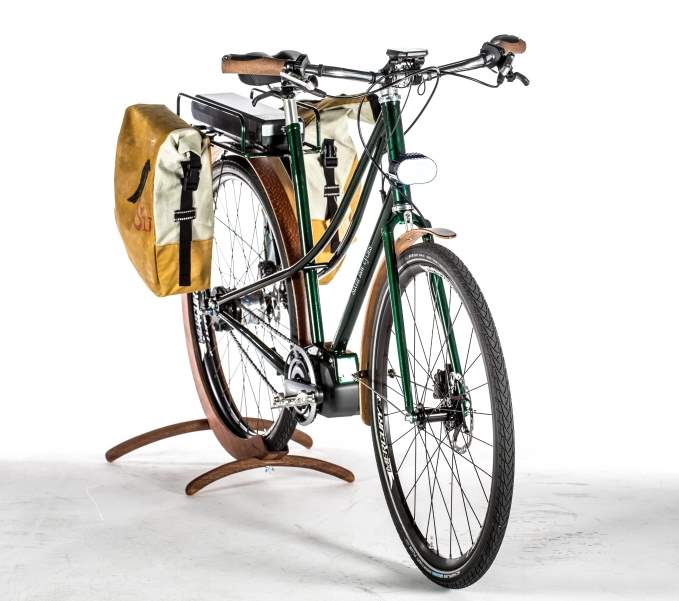 Web Site: sixthlawcycles.com
Sklar Bikes
Located in Bozeman, Montana, United States, Sklar Bikes was founded by Adam Sklar. Sklar builds custom handmade MTBs, Cyclo-x, and all-road bicycles.
Other boutique bicycle manufacturers: A | B | C | D | E-F | G-H | I-J-K | L | M | N-O-P-Q | R | S | T | V-W | Y-Z
* According to Wikipedia, "boutique manufacturing is a method used for the custom production of certain products in limited quantities by hand or with a restricted level of automation". (Boutique manufacturing on Wikipedia)
Latest posts by M. Özgür Nevres
(see all)